COVID-19: Virtual Speaking and Workshops now available!
Future of Work Keynote Speaker, Matt O'Neill - Inspire your positive future
We can never be future-proof, but we can be future-ready. So as the world of work navigates its way past the pandemic, equip your teams with the foresight to gain a new competitive advantage. Future of work speaker Matt shows you the future of work trends shaping our lives in realistic and human terms; and how you can apply them to build your positive future.

Equip your organisation with future-fit thinking to enable fresh realisation in your team. The topic areas I cover in my future of work keynote include:
Artificial Intelligence: Understanding automation and its development towards 2030
Future of Work Skills: What to develop for yourself and your teams
Continual Learning: Why it's critical and how to do it easily
Multi-generational Workplaces: How attitudes to work are changing and what the new generation values
The Physical Workplace: What innovations can you expect and what are the implications for your people?
The Virtual Workplace: Understanding mixed reality working - including the Metaverse and beyond!
Jobs of the Future: Where do future jobs come from? How will roles in your industry evolve (customised for your audience)
Being Future-Ready: Preparing for future shocks and getting comfortable with sophisticated machines
GET STARTED NOW
DISCOVER MORE
"Your presentation had people talking for days. Your insights into the Future of Work were invaluable as was the interactive and insightful discussion. We look forward to inviting you back again."
Ryan McCarthy,
Head of Learning and Development, Macquarie Corporate Bank
Power up your people with fresh insight - and watch your organisation thrive
Why Matt O'Neill is the ideal Futurist of Work Keynote Speaker for Your Event
Most Future of Work speakers believe their job is delivering content. To me, that's selling short. I judge success by enabling the actionable, fresh realisation of the world around us. My job is only complete if your audience leaves the event feeling inspired to do something different tomorrow than they did today.
I bring unique work futurist expertise to your conference or event, and enable fresh understanding for your participants. It's not just about facts and figures but also entertaining and motivating your audience with stories, stunning visuals and humour. I'm equally comfortable presenting as a Future of Work speaker on a range of virtual event platforms or in person. As a result, your audience will leave feeling reinvigorated and motivated to create their positive futures.
"You were easy to work with and provided really practical insight and contacts to help us move forward."
Dave Barrett
Deputy CEO, British Board of Film Classification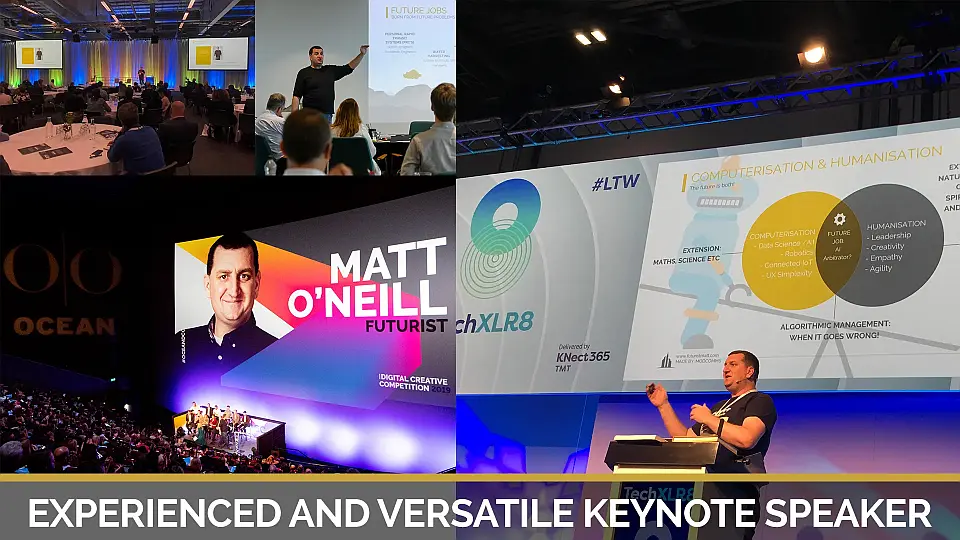 Future of Work Speaker
What are the technologies set to change the future workplace? We explore how existing jobs will be destroyed - and those that will be created. Why will this happen? And – importantly – how can we prepare ourselves for an exciting and very different Future of Work?
The Big 21st Century Trends
Here, we explore emerging technologies and challenges our species is facing. Artificial Intelligence, Big Data, Biotechnology, and Climate Change. What should audiences be aware of, and how can they live harmoniously and productively in a dramatically changing world?
Machines vs. Humans
We hear so much about how machines are taking over the world. But is that really the case? How can we future-ready ourselves and, importantly, prepare our children for a world so different to the one we inhabit now?
Post-Pandemic Life
The future is less predictable than ever because the COVID-19 pandemic has thrown up challenges in the connected worlds of health, politics, consumer needs and market uncertainty. Nevertheless, there is an opportunity, and we explore what this is and where it comes from.
Future of Leadership
Leaders of the future will need new skills and characteristics to propel them forward. That's because organisations will look entirely different. In this keynote, we explore new forms of organisational structure, why brute force analysis should be left to the machines and the human skills we need to develop as leaders and foster in others.
Bespoke keynotes and workshops
As an event speaker, I have created industry-specific content for numerous sectors. That includes retail, manufacturing, construction, software, financial services and more. So, get in touch!
EXAMPLE KEYNOTE PRESENTATIONS:
Client: Institute of Workplace and Facilities Management
Topic: The Evolving Workplace: FM and the Future of Work
Client: Unibail-Rodamco-Westfield
Topic: Inventing the Future of Retail: Ideas to grow our business with
Client: Randstad Risesmart
Topic: Being Future Ready: Strategies to thrive in an era of Uncertainty
Client: Alibaba
Topic: The Future of Leadership: Managing in the AI Era
Client: Ocean Outdoor (Creative Competition)
Topic: Creativity and Digital Out of Home: How to be Future-Ready!
Client: British Parking Association
Topic: Being Future-Ready: Growth & New Revenue Opportunities
Who is Futurist.Matt?
Prior to becoming a Future of Work Keynote Speaker, Matt O'Neill spent over 20 years developing marketing and communications businesses. They include an innovative events company, cutting edge video marketing products and a marketing communications agency. He has worked at the cutting edge of media throughout.
His real interest lies at the intersection between technology and humanity. His positive outlook means he's always looking for ways to fuse the best of what technology has to offer and how we humans flourish alongside.
What you get from working with Matt:
Actionable advice: In addition to raising awareness of likely changes, Future of Work Speaker Matt will always aim to provide practical insight on the actions you can take immediately and in the longer term.
Support Communications:With a background in communication and marketing, Matt's wider team at ModComms can develop collateral for wider sharing across your stakeholder base.
Novel formats: Matt can recommend innovative formats to deliver his Future of Work keynote presentation to your staff and customers. In the past, this has even included workshops in Virtual Reality.
Client Testimonials
"You pushed the limits of some of our attendees' minds with ideas that have since created conversation and debate – something which was a key part of the brief. He even visited one of projects before the event to gain some specific examples relevant to our audience."
Emma Tongue
Communication Manager Morgan Sindall PLC
"To say Matt is generous with his time, energy and intellect is an understatement. And his generosity of spirit sets him absolutely over and above."
Caron Fassetta
Membership Director British Parking Association
"Your presentation had people talking for days. Your insights into the Future of Work were invaluable as was the interactive and insightful discussion. We look forward to inviting you back again."
Ryan McCarthy
Head of L&D Macquarie Corporate Bank
6 years working with wide-ranging clients:
Association of Association Executives
British Board of Film Classification
British Parking Association
Epicor PLC
Greenwood Academies Trust
Greenfields Community Housing
International Association of Business Communicators
Joseph and Co - Events
Macquarie Corporate Bank
Morgan Sindall Infrastructure
National Accident Helpline Group
Ocean Outdoor
Randstad Risesmart
Sage Software
Swan Housing
Unibail Rodamco Westfield
Vistage Leaders Network
And many more...
The World is Changing. Futurist Keynote Speaker Matt
Highlights the Challenges and Opportunities Arising.
As a keynote speaker, futurist Matt O'Neill aims to inspire, challenge, and equip your audience with future-readiness. With his team, Matt is constantly assessing future trends and disruptive technologies. Then, through an interactive process, we distil our insight to be strategically relevant for your organisation and deliver a keynote tailored to your event.
Event Speaker Futurist Matt O'Neill covers diverse and relevant future industry trends. He also speaks about the future of society.
Some of Matt's previous keynote speech topics:
Artificial Intelligence, Biotechnology, and Climate Change;
Robotic Process Automation and its Impact on Future of Work;
The Future of Leadership, and
Sector specific talks including Retail, Manufacturing, Construction, Software, Financial services and more.
Get in touch if you're planning your next corporate event and want a keynote speaker who enables fresh realisation!